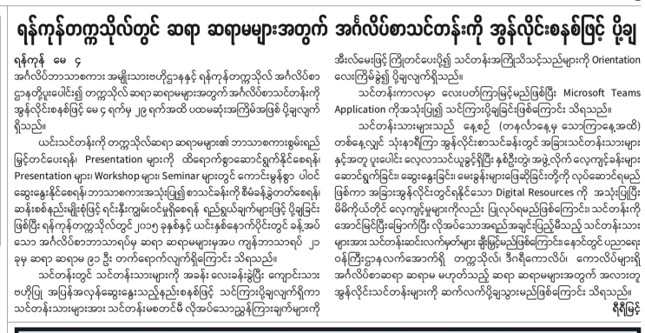 The first online English Language Course for Higher Education Teachers (1-2020) is being jointly offered by the National Centre for English Language and English Department, University of Yangon from 4th to 29th May 2020.
It is offered for non-English specialisation teachers appointed in 2015 and beyond at the University of Yangon and altogether 91 faculty members from 21 disciplines are attending the course.
The course aims to upgrade the language proficiency of the university teachers; to train them to be able to do presentations effectively and participate in presentations, workshops, and seminars; to acquaint them with classroom language and management; to familiarize them with different modes of assessment.
During the training, the trainees are formed into four different sections in which they are engaged in their learning through the student-centred interactive approach.
The trainees are given guidelines for the online course via email in advance before the course and orientation was provided to participants in four different sessions.
The training is a four-week course conducted by using the Microsoft Teams Application. Trainees will have an opportunity to do collaborative learning with their peers in the virtual classroom for three hours a day. Moreover, trainees are assigned to do pair work and group work activities, discussions, quizzes and are given loads of digital resources for their self-learning.
Participants who have successfully completed the course and who have fulfilled the requirements of the course will be awarded certificates.
More online training courses will continue to be offered in the future for non-English teachers from universities, degree colleges, and colleges under the Ministry of Education.
Leave a reply